Harriette has been complaining that she's not been doing any modelling work. In fact it's so long since she last modelled anything that she's forgotten when she last did some. She's currently stood in my study with some hand-dyed skeins of yarn draped around her and she says that I should either do something with them or put them away as she's not a hat stand (technically she's a clothes stand – shush, best not tell her).
Sadly I didn't think to cater to Harriette's aspirations when taking pictures of my first object. I think I was too busy making patterns with it! It's a scarf and I finished it in the run up to Christmas.
The yarn is handspun blue faced Leicester and bamboo that I carded into batts to make a gradient coreless core-spun yarn.
Over the Christmas/New Year period I finished plying some polworth yarn. I threaded both plies with beads and used the intermittent coils technique I learnt on Sarah Anderson's course. My coils improved as I went along (my hands got better at controlling and moving the twist and coordinating with my feet!) but when I do another intermittent coiled yarn I'll put more twist into the singles. I haven't yet decided on a destination for this, or what technique I'll use for it.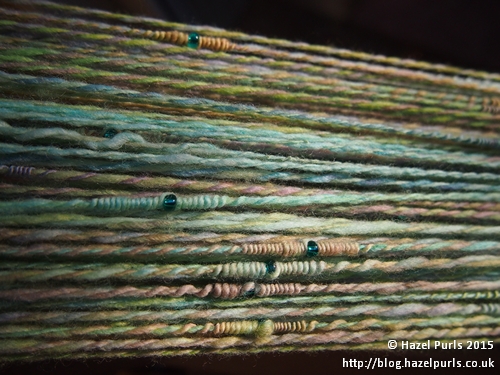 During the summer I spun up some alpaca and bfl. In October I started spinning up some merino and seacell and last week I finally finished the spinning and started plying them together. Even at the last moment I wasn't sure that plying them together was the thing to do, but as the colours have gone onto the bobbin I've been pleased with the result. I'm surprised that two very strongly coloured singles are making a paler more subtle plied yarn. I'm interested to see what the finished skeins will be like.
Finally, I'm still working on the knitted shawl it's been quite a few places with me, including a beach at the end of October while the children dug big holes in the sand.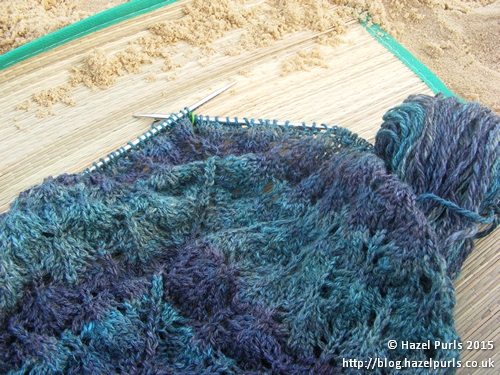 While at the beach I took the opportunity of going for an early morning walk and taking some photos. Here's sun, sea and sand just after dawn:
Harriette is really keen that I finish the shawl soon, so we can go outside for a bit and get some nice photos that include her. She's hoping to see some daffodils.