While I was sorting out my stuff for the exhibition last month I realised I'd made progress on projects but not updated them here.  So last week I took some pictures while the sun was shining.
Since then I've spun some more, and even done some plying.
So today I took more pictures (the sun was shining again).
First up, the colour experiment from the Tour de France.  I've finished and plied three skeins with the different coloured singles, and I've spun (but not plied) the fourth skein (with matching singles).
Secondly, the Tour of British Fleece rainbow is getting close to completion.  All the singles are finally spun and I'm half way through the plying.
Prepared locks, ready to be tail-spun.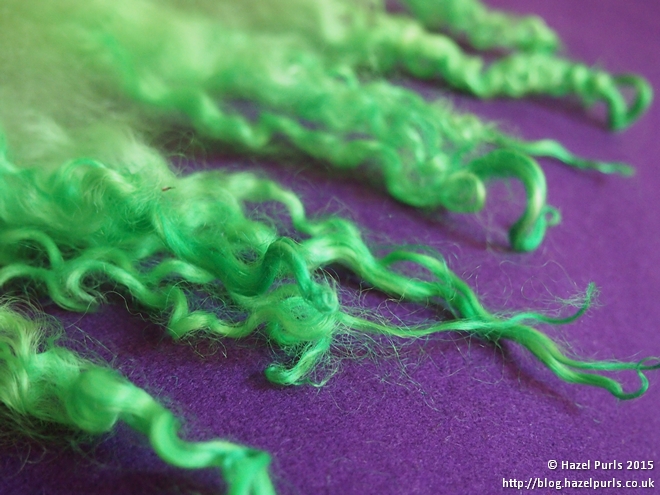 Here's the basket with lots of full bobbins.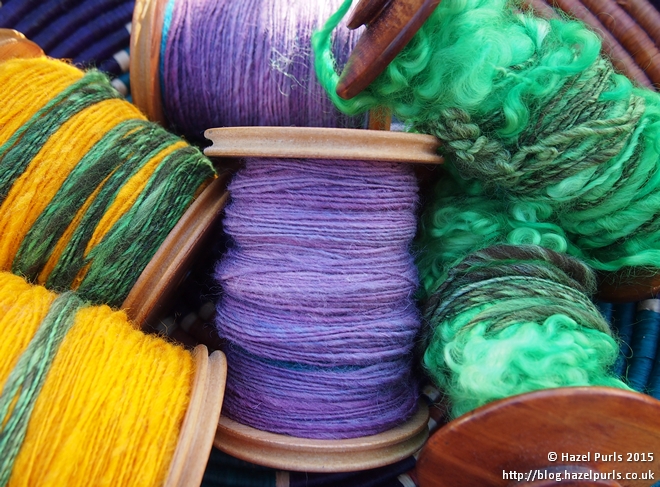 Unbelievably, in my imagination, I had this full project fitting onto the single large bobbin of my Pipy Poly wheel.  In reality I just managed to squeeze from violet up to the green tail-spun locks onto the bobbin last night.  I think that the remaining singles will just fit onto one bobbin, making a rainbow split into two skeins (which I'm happy about).
Here's the first full bobbin on my skein winder.  Half a rainbow!
I'm looking forward to getting this finished.  I think I may spin a small amount of a soft fibre (probably BFL) in a pale blue, and use this above and below the rainbow when knitting it up.  I'm still thinking a capelet would be the best use for this.
And once this is finished?  My fingers are itching to do some art yarn…