Today my new wheel arrived and was promptly whisked out to a craft group meet-up.  I took her to bits, gave her a polish, put her back together again and put on a new drive band. 
I then wondered what to spin on her.
I fished out of my stash some white, grey and "black" Shetland tops took a length of each and thought about a marled yarn.  Then Secret Spinner walked past and said that she was planning a gradient yarn with her Shetland.  What could I do?  I decided on a quick spin of a small amount of gradient yarn.
I put the tops into groups working from white to black.  For the transitions between white and grey, then grey and black I held the two adjacent tops together and drafted them together.  This produced a marled rather than carefully blended single.  If I was going to do this on a larger project I would go to the effort of blending the transition colours together before spinning.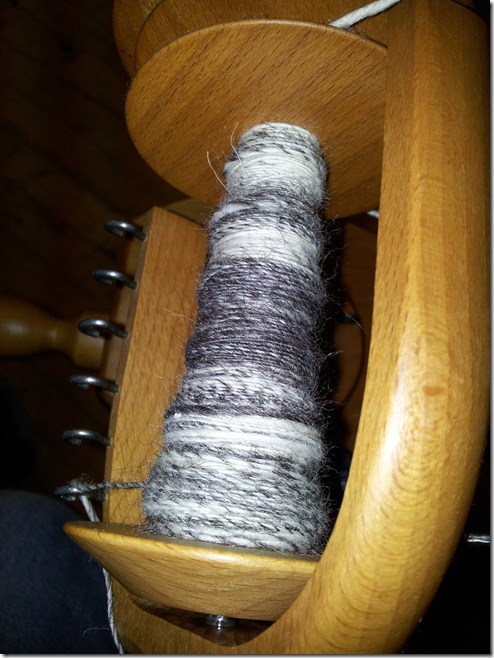 This evening, once I'd got the wheel set up at home, I checked the assembly instructions (they can be found on Ravelry).  I discovered that there are two bobbins for spinning singles and one bobbin for plying!  I checked my bobbins and found that two have a whorl that is slightly larger than the remaining bobbin's whorl, so assumed that the odd-one-out is the plying bobbin.
I'm planning on Navaho plying my blue BFL.  But I don't want to learn on that project.  So this gradient spun Shetland was the ideal candidate for practicing on.  I got in a tangle a few times (I think leaving the singles to set for a day or two would make things much easier).  However, I ended up with a beautifully balanced skein:
It's now soaking to set the twist.  What shall I knit?  A winter hat, a beret, a small scarf or a Mobius cowl?  It's not a huge skein, but I should be able to get something useful from it.
As for my new wheel?  She is a delight to spin on.  I'm about to upgrade the flyer on my Traditional to a lace flyer, so the Haldane Lewis will fill that gap and provide me with a lovely wheel for spinning 4-ply to DK thickness yarn.