The finished Dorset Horn yarn didn't get included in yesterday's stock taking! It's made a lovely squishy 3-ply yarn, that's slightly heavier than Double Knitting weight and is very lofty.
I spun it on my Haldane Lewis which has two spinning bobbins and one plying bobbin.  So, to enable enough bobbin space I re-wound the singles onto other bobbins (the third bobbin was rewound for consistency).
This is a trick that you can do with double drive wheels.  A full bobbin is put on a lazy kate, with an empty one on the wheel.  Both parts of the driveband are transferred to the bobbin grove, and an arm of the flyer is tied to the mother-of-all to stop the flyer moving.  The single comes onto the bobbin on the wheel from the side (not through the wheel orifice).  The wheel is treadled as normal, and the single is guided by hand onto the bobbin, so that it fills up evenly.  It's surprisingly quick* to re-wind the bobbins and helps to make plying easier as the bobbins unwind evenly.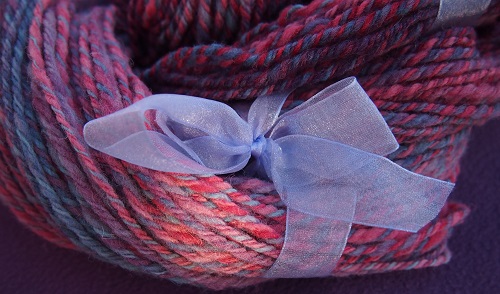 I had initially intended a hat with this yarn, but I really want to show off the colour changes, so I may have something else in mind.
* Usually it's quick.  However, for my final single the end fell off the bobbin I was winding onto,  so I had to reverse the process, re-glue the bobbin, then start again!