Today we went shopping in a field.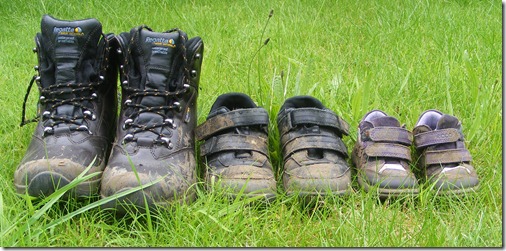 Nevermind!  We still had fun at Fibre-East.
It was lovely seeing my friends' stalls in particular Secret Spinner and FibreTastic at Spindependance and CamiKnitter at Outward Images.
There was sheep shearing (AKA child entertainment).
My daughter's knitted dress was admired.  I was asked for the pattern and got the details wrong! I said it was "Crazy Waves". It's actually the "Crazy Wavy Toddler Dress" from "Sock Yarn One Skein Wonders".  Here's my daughter wearing it about a year ago:
I didn't quite follow the instructions when making it – I decided I didn't fancy picking up 128 stitches on one side of the waistband and 160 odd on the other! Therefore started by casting on 128 stitches and working 1 row 1×1 rib and 1 row knit for a few rows to give the waist band.
I bought a weaving book that I thought was out of print (I always manage to find a gem on the P&M woolcraft stand!) and a beautiful rim weighted IST spindle (it spins forever!)  My son was shown how to ply on a beautiful Turkish spindle.  However, he was bought a peg loom and as it's only a week until the school holidays… I can see peg loom bags and scarfs being this year's summer holiday projects!
As for St Swithin's Day?  Well I'm pretty sure it's rained for the last 40 days (at least).  It's now gone 11pm and so far I don't think we've had a drop…