Well, it's been over 2 months since I last posted an update here.  The reason: I moved in August (as you know) and then moved again three months later.  I'm just beginning to catch up with myself. 
In the meantime I've continued with the spinning (everything's currently work-in-progress) and started another knitting project

Recently my son's been showing more interest in spinning and knitting and so we've re-visited the summer fibre project and started spinning the Jacobs wool we dyed and carded.  The other evening I plied it up on the spindle for him (Andean plying with a spindle makes more sense than with a wheel) and we started knitting it tonight.
Pictures are of my son spinning the single: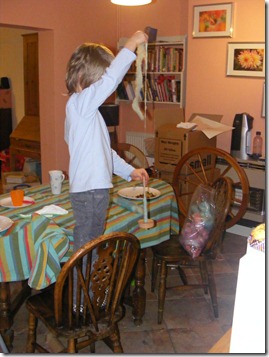 And of the plied yarn: