I'm not really saddle sore – I don't think I actually did any cycling while participating in the Tour de Fleece at all.  But the tour has ended and now it's time to look back and review the experience.  Before the tour started I set out some aims:
Spin everyday!
I did this!  I managed to do some spinning (or spinning preparation) everyday that there was a cycling stage in the Tour de France, and I even spun a little on one of the rest days!  Sometimes it was just a few minutes before bed, but sometimes I did a few hours.
Do some spinning on all of my wheels!
I also managed this.  I started the tour with six wheels and acquired a new one somewhere in the middle – which did complicate things a little.  I've spun a lot on some wheels (my oldest Ashford with both jumbo and standard sliding hook flyer has seen a lot of use) and just a little on others (both Haldanes have only been used a little, which is a shame as I like both wheels).  Here's what's on, or been on, my wheels during the tour.
Completing the singles of the Soybean and Sheltand on my Traditional with lace flyer: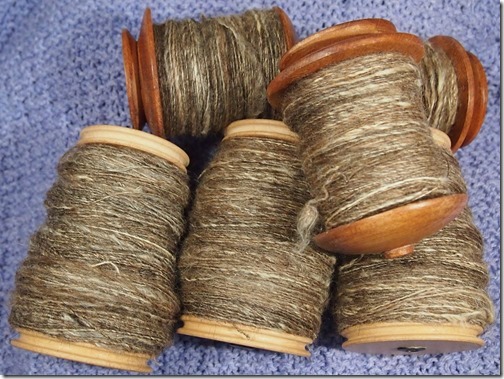 And starting to ply on my oldest Traditional:
Juno dyed Falkland fibre on my Dryad:
BFL dyed with food colour on my Queen Bee: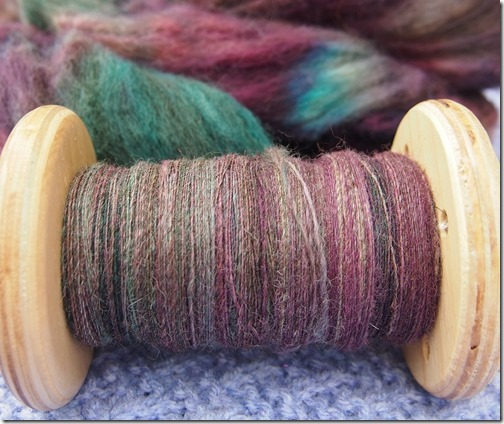 Continuing to spin some unspun yarn on my Hebridean:
Making singles for the middle of the bowties on my Lewis:
Learning to core-spin on my oldest Traditional with jumbo flyer and on my Pipy Poly:
Spin a fun Doctor Who inspired art yarn.
When I put this as an aim I wasn't quite sure what I was going to do.  Part way through the tour I started playing with core-spun yarns.  Then I started to think that the structure of the core-spun (with the fibres wrapping around rather than running along the length of the yarn) was a bit like the Time Vortex, add in some bowties…
I decided to make bowties with felt, and wrap singles around the middle to turn the rectangles of felt into bows.  I wanted two colours of bowtie, blue and aubergine.  Sadly, the first blue felt piece I made didn't work for two reasons.  The Angelina didn't bond into the wool properly and then when I rolled it, the colour of the Angelina wore off and I was left with bronze and silver sparkle instead of just the bronze.  I successfully redid the blue with smaller amounts of pink sparkle (which is the same colour I used in the aubergine felt and looks much better anyway).
I had a very late night on Saturday cutting up felt and then making up bowties.
On Sunday morning I prepared some core yarn by spinning it anti-clockwise to reduce the amount of unbalancing twist there would be in the finished yarn. I then packed everything up and took it to an open farm day, where I spun on the Poly wheel, which I've only used once before, using a technique I am still learning and adding the bows to the yarn in a way I've never attempted before. I even had to make up more bows using fairly active singles as I'd only had time to make aubergine bows the night before.
I spun some more when I got home and ended up with 80 yarns on the biggest bobbin of yarn I've ever spun:
Wound into a skein, washed and tied with yellow ribbons:
I still have about two-thirds of the batts left over so I hope to make another skein with the same number of bowties and a final skein with just a few bowties.
Finish off any languishing projects.
I have not finished any projects that I did not start during the tour, though I have made progress on some.  I'm particularly pleased to be finally plying the Soybean and Shetland!
Overall I've really enjoyed the experience of participating in the Tour de Fleece.  I've loved the focus on the spinning, the chance it's given me to explore new techniques and the opportunity to share with other spinners in the UK and abroad.  I will definitely do this again!