Today I stood in the kitchen and I could see two jobs to do next.  Either I tidied and cleaned the lounge floor or I cleaned the fluff from my drum carder.  Before I'd really thought about it I'd picked up the drum carder cleaning brush…
My daughter (almost 4) has been asking about the drum carder for a bit, and seeing me clean it she was again asking questions about how it worked.  So, we went and found my box of fibre scraps and some suitable fibre for holding it all together (I chose some silver-grey Haunui fibre) and we had a play.
We chose colours together.  Then I cut up some leftover handspun yarn – this was a first for me!  I wrapped the yarn around a book, then cut it into short lengths.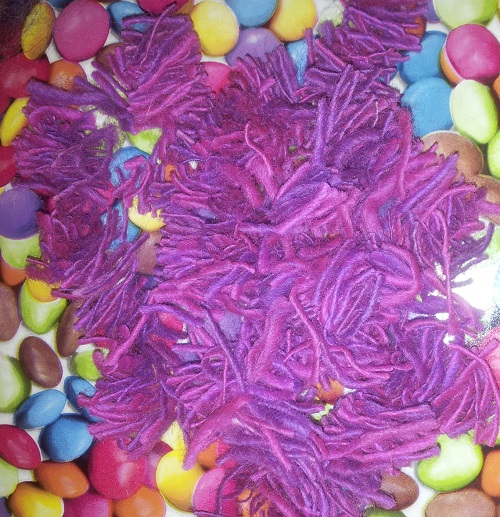 We carded up a batt – but my daughter thought it was a little too subtle, so we revisited the colour selection, making three piles of fibre to drumcard into batts.  By this stage my daughter was very engaged with the process and happily turned the drum carder while I prepared fibres and fed them on.  She also issued instructions about the colours and fibres that should go on next.  We made glitter and cut-bit sandwiches (with thin layers of fibre for the bread) for the drum carder to eat (the large drum is apparently the drum-carder's tummy!).  We ended up with four batts.
At the moment I'm not sure what I'll make with these (or even how I'll spin them), but I'm sure they'll end up being made into something for my daughter.