Earlier this year I attended two spinning workshops.  Though both workshops concentrated on spinning more unusual yarns, they had very different approaches.
The first workshop was on Creative Spinning run by Jane Deane, and organised through a local Guild of Spinners, Weavers and Dyers.  As well as a wheel and materials we were asked to take "a picture, found object, poem or something that really appeals" as a source of inspiration for the yarn.
I wanted to work outside my comfort zone, so I took a poem.  I'd recently come across Elizabeth Barrett Browning's "Sonnets from the Portuguese" so selected a couple I loved, eventually settling on the 10th:
Yet, love, mere love, is beautiful indeed
And worthy of acceptation.  Fire is bright,
Let temple burn, or flax; an equal light
Leaps in the flame from cedar-plank or weed:
And love is fire.  And when I say at need
I love thee . . . mark! . . . I love thee—in thy sight
I stand transfigured, glorified aright,
With conscience of the new rays that proceed
Out of my face toward thine.  There's nothing low
In love, when love the lowest: meanest creatures
Who love God, God accepts while loving so.
And what I feel, across the inferior features
Of what I am, doth flash itself, and show
How that great work of Love enhances Nature's.
I read through the poem, thinking about how this may be represented in the colours, materials and structure of the yarn.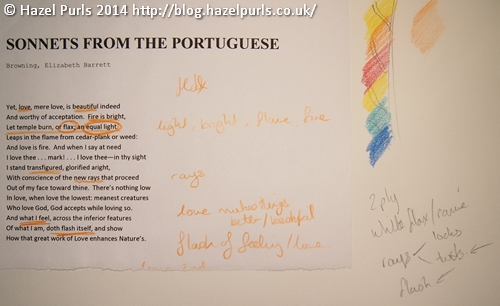 Then I worked through my materials to find things that matched the theme.  Dyed locks in yellows and reds (like flames).  Dyed BFL tops in yellows, oranges and blues (blue like the very hottest parts of a flame).  I didn't have flax, but I did have ramie, which is also a bast fibre.  I used some gold nylon for the "flash".  I spun two singles: one with the locks, tailspinning them into place; a second of BFL, ramie and gold nylon blended together and spun moderately finely.  I plied these, adding pigtails of the fine single occasionally (the blend made loops at the end of each twist – so I think this would be an interesting blend for bouclé yarn).
When I was finished I had an extremely exuberant yarn.
I spun a second sample, this time keeping the locks completely within the single and not having the tips hanging out of the yarn.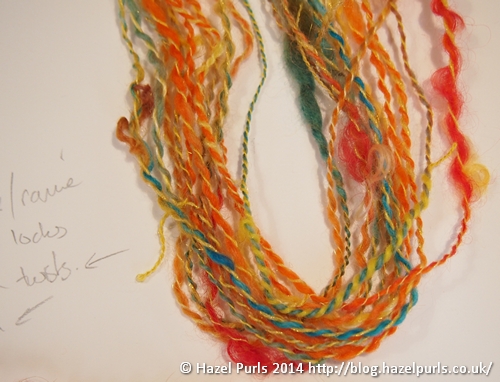 I thoroughly enjoyed this course, and could have carried on creating many variations on this theme (in the same way that composers produce many variations on a theme of an earlier composition).
The second course was on "Coils"", Pigtails and Beads" and was run by Sarah Anderson and organised via Fibre East.  For this course we only needed to take a wheel as materials were supplied.
The course concentrated on plying, so we started by adding twist, lots of twist, into some commercial low-twist singles.  We then threaded beads onto both singles, ready for the fun to begin.
I found Sarah to be a brilliant and generous teacher.  She showed us the techniques, let us try them, showed us them again (and again as necessary) and helped us work through them until we were doing each to our satisfaction.  She gave lots of little tips and tricks along the way, and added some extra techniques towards the end of the workshop.  I came away with my head buzzing with ideas and a skein containing a wonderful array of techniques.
Both courses were brilliant and inspiring in their own different ways.  I learnt so much in such a short space of time (much more quickly than I would have managed had I been at home working with a video or a book).  I would thoroughly recommend taking a course to help develop your skills.