So far I've spun everyday of the tour, with the exception of Friday (when at 11pm I realised I was completely exhausted and went to bed). To make up for this, I spun the following Monday, instead of taking the official rest day. On Saturday I had a lovely long spin as I took my Traddy out for the day (it's rare that it has a day out and I do think it enjoys the change of scene!)
I've spun up half of each of the first two braids of fibre and plied them together. And the resulting skein looks lovely.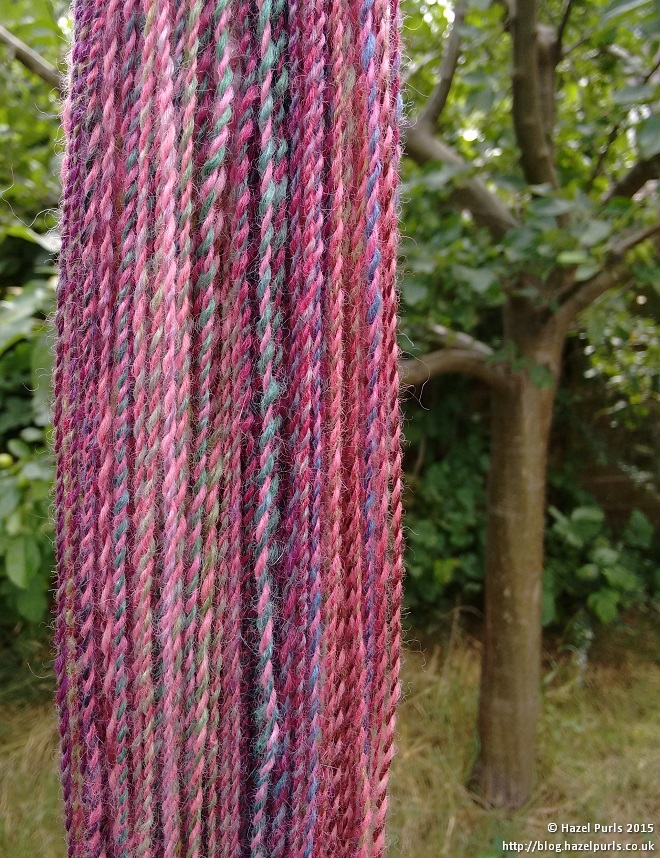 However, having completed the first skein, I'm not sure I really want another 300g of the same colours.  So in a moment of madness I've added in some green/blue tops in colourway Calypso on Polworth fibre (also part of the three month fibre club I joined last year).  I'm now going to have a mix and match spinning project.
I've got two braids in each of three colourways.  One braid in each colourway is being split into two, spun then plied with each of the other two colourways. This will result in three 100g skeins of barber pole yarn.
The remaining 3 braids will be spun and plied with themselves, either using a fractal spinning technique, or, at the other extreme, spinning and plying to maintain the colour changes in the braids (I have yet to decide – but whatever I do will be done to all three colours).
The result will be six skeins of 2 ply yarn, each skein completely unique, but related to most of the other skeins. However, this is 600g of spinning, so I don't expect to finish during the TdF.
I'm not sure what project I will use these yarns for. I'm sure I'll think of something!