Yesterday saw the start of the Tour de France. It also saw the start of the Tour de Fleece and I'm spinning for the Lovers of Ashford UK team on Ravelry. My challenge this year is straight forward, I have four braids in two colourways that I'm going to spin and (probably) ply together (that's 400g of fibre). Knowing that it's taken me months to spin just two braids in the past, I think spinning the 400g by the end of the tour will be quite a challenge.
The fibre is all dyed by Sara Texture Crafts and is in the colourways Rosemoor (on BFL) and Fruit Punch (on Falkland).  On Friday evening I gave the wheel I'm using (my oldest Ashford traditional with a lace flyer) a polish and oiled all the moving parts all ready to begin on Saturday.
Yesterday evening I sat out on the patio for a few minutes spinning. It was lovely, but the light was already failing so I retired indoors. I put on an audio book (my mum lent me a couple to try a few months ago, as she thinks I'll enjoy audio books, but I had a poor one a few years ago and haven't tried since) So I listened to David Tennant reading a Doctor Who story (I'm afraid I laughed at his rendition of Rose's mum, but otherwise I'm enjoying the story), and spun up quite a lot of my first half braid.
I'm spinning S-wise (anti-clockwise) with crochet in mind. It'll probably be Tunisian crochet (which I enjoy working but don't do enough). But Tunisian crochet may be too busy a stitch for the finished yarn, so it may be normal crochet.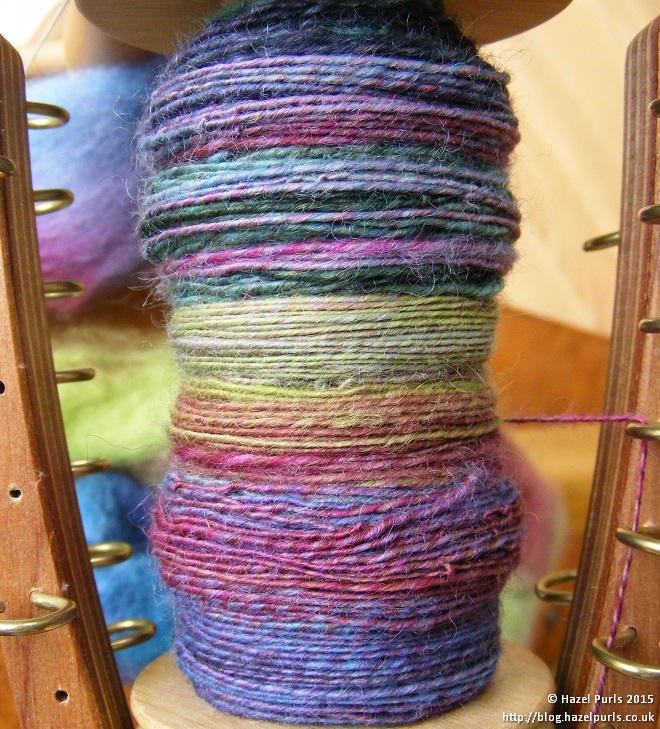 Last night I thought to make the perfect spinning date I just needed to add a lovely box of chocolates to nibble on, while listening to David Tennant reading and working through my spinning. (I may treat myself to some chocolates for tonight).