Yesterday I spent some time doing administration on a Ravelry group, work that I'd intended doing straight after the Tour de Fleece (TdF). As a consequence I think it's about time I wrote up my TdF summary, although it's a little bit of a challenge, as we're now part way through October and that was in the early part of the summer.
My goal for this year's TdF was simple, spin everyday and do some spindling while the Tour de France went past.  I did spin for 21 days, though took a rest day when I should have been spinning, and did a small amount of spinning on a rest day.
I spun on a spindle while waiting for the cyclists to whizz through our village.  The two lead riders shot past so quickly and were surrounded by so many support vehicles and motorbikes that I nearly missed them!  The rest of the cyclists were a couple of minutes behind and they passed through as a scarily compact fast moving pack.  It was all over in minutes and the rest of the day was delightfully quiet with the normally busy road being closed to traffic.  I'm embarrassed to say that anyone who has been reading this blog for a while will recognise the fibre on that spindle – I was trying to finish it for 2013's TdF!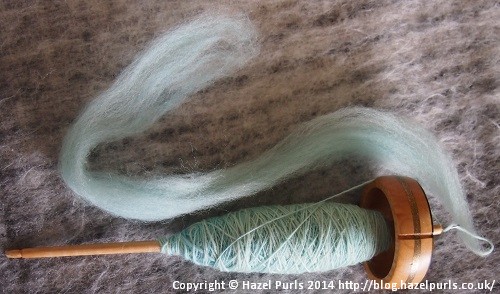 I spun a beautiful batt of carded merino in peacock colours, this was part of a secret santa gift organised via ravelry.  I spun it finely, but it wanted to be a little lumpy, so it is, and I love it. It was spun on the lace flyer of my oldest Ashford wheel, and plied from both ends of a centre pull ball (the first time I've tried this technique and it worked really well).
I finished spinning 200g of merino.  I spun the singles anticlockwise (S-wise) and Navaho plied them clockwise (Z-wise), with the intention that the yarn would be more suitable for crocheting.
I plied some bouclé (the second half of this plying was was finished in August).  I've just realised that it hasn't all been washed, I really should do that!
I carded up some lovely batts, which I will spin and felt into an art yarn.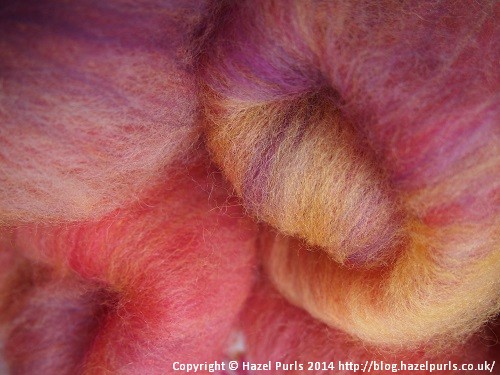 Finally, on the last weekend of the tour I took a lovely course at Fibre-East learning some great plying techniques, but more on that another day.
So, here's the finished pile of TdF carding, spinning and plying.