We've had a run of lovely summery weather, warm with soft mellow sunlight.  There's been the odd day of rain, but otherwise the weather's been the best that autumn can bring.  Keats's poem of mists and mellow fruitfulness, late flowers for the bees and a maturing of the season expresses perfectly this year's autumn.

Heptacodium miconioides in my front garden.  This has become quite a large shrub and is loved by the bees for its late flowers.

Autumn has brought the start of a new school year, and my youngest is now at school too!  I've been working on getting my study/workroom organised, as it has become the room things get dumped in.  Earlier this week, after doing some work on it, I explained to one of my children that getting something from the room could take a while, as it was now "upside down, inside out and backwards"!  It's a work-in-progress, but at least it now has lovely curtains (with thanks to my mum for giving them to me) and the orchids look pretty on the windowsill.
I've been on tenterhooks all through this week, hoping the good weather would hold – because I was due to spin in a field today!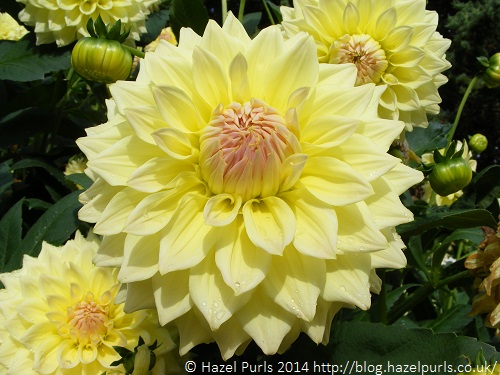 Huge dahlias in a local garden

Fortunately the day was the best it could be.  Pleasantly warm with just a hint of a breeze, though I think it's best that the hog roast isn't mentioned.

Medlars in the same local garden

I took a hand-dyed top of blended alpaca and blue face Leicester to spin.  I get very cold hands in the winter, so I hope the alpaca will make for very warm gloves.

Two bobbins in the sun

I haven't decided how to ply these yet.  Whether to ply with a plain single, to Navaho ply, or to ply together.  I shall let the bobbins rest awhile until I make a decision (but not too long, gloves for winter would be very nice!)
I'd overestimated how long it would take me to do the spinning.  After just an hour I found I'd already spun the first 50g! However, with breaks for tea and sandwiches, plus a few rows of knitting on my shawl, I was able to eke out the second half of the spinning for the whole afternoon.

My spinning basket in the garden with the results of today's spinning and knitting

It was a lovely way to spend a day.  Spinning outside on a warm, sunny day, in the company of friends, with interested visitors, of all ages, asking us questions and sometimes having a go themselves.