The last few evenings I've been playing with colour, but there's been no wool or vinegar, I've been playing with watercolour.  It's been years since I last did any watercolour, so long ago I can't remember when.
I've noticed lately that good painting supplies have become exceptionally expensive (even student quality paints like Cotman) so I'm pleased that I appear to have bought good brushes and paints in the past. I even have a good selection of paper and a board for stretching paper before painting on it.
Exploring the paints and some different painting styles.  I need lots of practice!
Over the last few days I've learnt a few things.  Firstly, it's possible to soak the paper for too long (even really thick paper) prior to stretching.  Leaving it soaking too long will remove the size on the surface of the paper.  Then, when you try and paint on it, the paint will soak in immediately and not allow any kind of movement of the paint on the paper.  (I've only tried to stretch one sheet of paper so far… unsuccessfully)
Secondly, various places (on the internet) have said that watercolour paper is sized with gelatine.  I've not been able to check this with the manufacturers of the paper, but (as a vegetarian) that does lead to some ethical issues for me. For the moment I shall use the paper I have and hope I can either disprove this information, or find a suitable source of watercolour paper that doesn't use a gelatine size.
Next, I was struck by the small size of stuff I need to paint.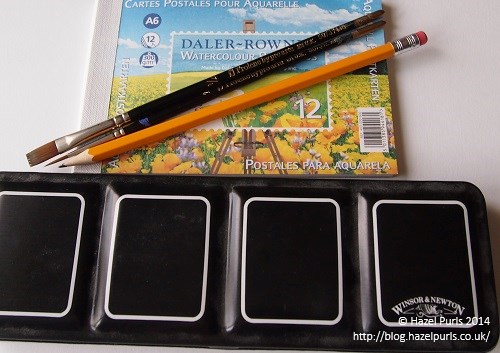 Yes, that's it!  A box of paints, a small pad, a couple of brushes, a pencil and a rubber (and probably also a sharpener and something for water).  Compared to what I need for spinning it's a delightfully small pile!
Finally, I've discovered the appeal of making small paintings.  I've had that postcard pad for years, and couldn't see the point.  I've always thought of painting as needing to be A4 or A3 sized as a minimum.  But I've found it delightful to make a small painting: it's possible to quickly explore a technique or idea without committing to something larger and you end up with something finished in a short time.
I'm looking forward to seeing where my painting takes me and how the painting may feed into my spinning.