On Christmas day (nearly 3 weeks ago!) I was very lucky to be able to spend the early morning and the end of the day with my children, but have a few clear hours to myself in the middle of the day.
Last year we had the same arrangement, so I had a cycle ride and watched Doctor Who.  This year I decided to learn a new skill.  Buoyed up with Christmas Cheer and on a sugar high from the Turkish Delight I decided to learn to warp up and weave on my new Inkle Loom.
I got the loom on the table and took off the side.  I emptied out my "weaving" yarn stash and chose a couple of yarns.  Then, with my book open at the right page, I started warping up.
Part way through my first attempt I realised that the yarn was supposed to go through the heddles, so I undid the warp and started again.  At the end of the second attempt I was happy and put the side back on.
However, I quickly realised there was no way I could select both sets of threads independently.  I'd managed to put the heddles onto the wrong warp threads.  So I carefully unwound the warp and warped up a third time.
By now I'd got a reasonably rhythm going.  On the second warping attempt I'd added drawing pins by the first peg to hold warp threads when switching colours. I'd also discovered that the tension bar would move, so I needed to keep an eye on it while warping and move it back if necessary.  Finally, I'd realised that putting the heddles over my left wrist, ready for use, made the process much quicker.
This time I got it right:
I wove a small header with waste yarn (this is normal practice with a table loom, but I don't know if it is with an inkle loom).  Then I switched to using the same yarn as for the warp.  I don't have a belt shuttle (which incorporates a bevelled edge for beating the weft), so I used a small stick shuttle to carry the weft and a metal ruler with a bevelled edge for the beater.
I haven't had any time since Christmas to continue with the weaving, but I'm hoping to make this into a belt (I don't like leather belts and struggle to find alternatives, so this is a perfect first inkle project).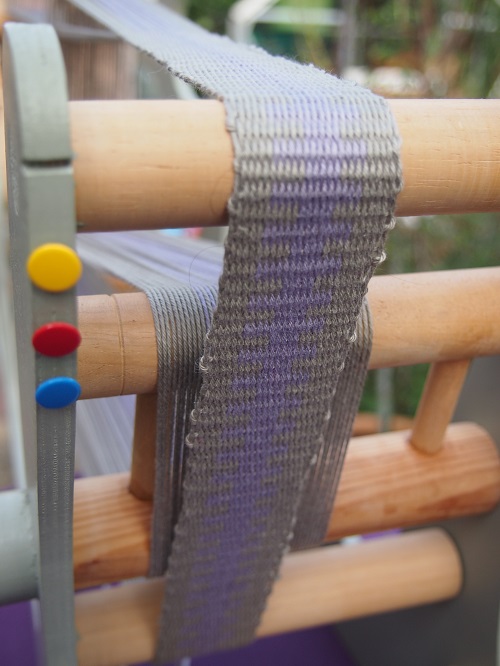 It was lovely getting to know the loom.  By each peg I discovered a pencilled label, giving the order the warp should go on.
Learning a new skill was a great way to spend some of Christmas day!