Perhaps it's because we are racing towards Christmas (last week of term and it's turning into a very hectic week), or that there were model sleighs in Home Sense on Monday (and by "model" I mean huge pieces of furniture you could sit in and cost as much as a new spinning wheel!), but I keep thinking this looks like a sleigh:
Anyway, I'm now the exceptionally happy and proud owner of an inkle loom!  It's a very robust loom and quite large (in size it seems to be somewhere between the floor and table versions).  It's been used for tablet weaving, so it should be a very versatile loom.  And look, the side comes off and the previous owner has been very thoughtful and threaded it up to show the longest path!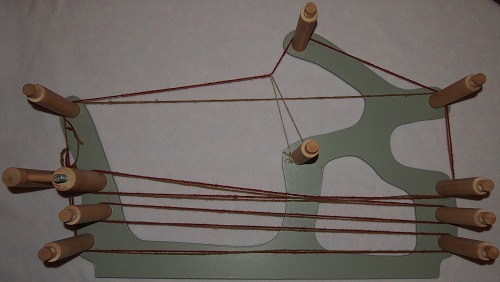 My fingers are itching to start using this, but I have so many projects on the go, it'll be Christmas before I get there (which as I have the children in the morning and then the rest of the day to myself – for chilling out and doing what I want – I suspect that really will be the case)!
Anyway, tonight's task is to dye some yarn and fibre to include in craft kits as a present for the children… so I should get back to it!