At this time of year the sun has barely risen before it is setting again, making project photography very difficult.  Today I have resorted to desk lights and daylight bulbs to take some pictures.  At other times I have boldly sneaked a finished skein of yarn into the local botanic gardens and taken pictures "on location" in the greenhouses.
However, the short days and low sun provide other opportunities.  It's possible to see many more sunrises and sunsets than usual, and sometimes the light can be very warm and golden, making for lovely views.  In the last couple of weeks there have been some spectacular sunrises and sunsets, stretching across the whole sky. I was also very lucky to catch a parhelion, also known as a sundog (though according to atmosphere optics they are quite common).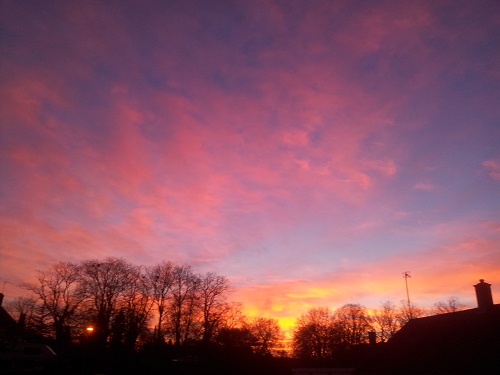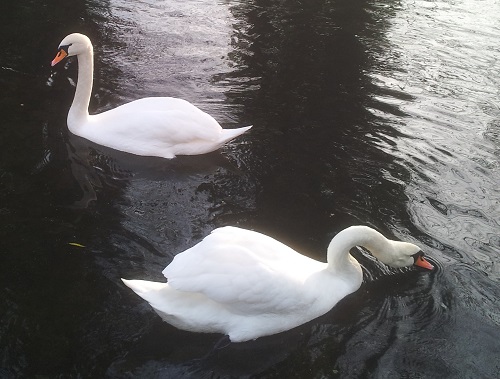 So, other than watching the sky and feeding swans, what else have I been up to?  I've briefly had the sewing machine out and made something small to include in a Secret Santa swap (and as it's secret that's all I'll say for the moment).  I had a dye session on Friday and a day out spinning at Creating Space yesterday.
I dyed kid mohair and BFL in the same colours, with the intention of making a bouclé yarn.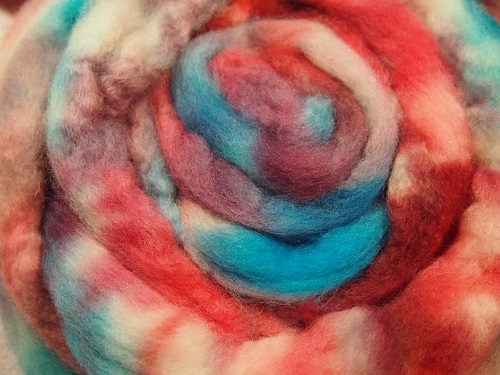 I also dyed Southdown (in blues and greens, though I'm not enamoured with the result) and Finnish (in pinks and reds).  The Finnish is lovely, very similar feel to the BFL, but a little less silky.  The Southdown is bouncy like the Dorset Horn.
Yesterday I spun my daughter's wildcarded batts into a thick single.  I then carded three colours of Corriedale together and spun these into a thick single for plying.  Last night I decided I'd add to the experiment and threaded beads onto the thin single.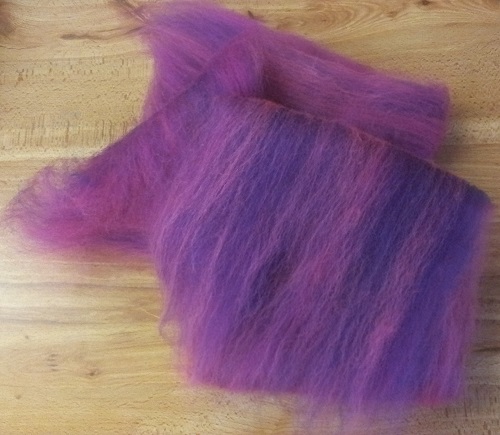 I've started to do a spiral ply with these, and can now appreciate the advice to use a commercial thread when adding beads.  Once added onto the single, the beads grip fairly well and are very heavy.  I only need a moderately weak spot in my single and I'll have a scattering of beads all over the floor!