I promise I'll stop using the Time and Space theme shortly, but for this post I need to go back in time a little way.  I was so excited about finishing the shawl that I skipped straight past some yarn I'd finished spinning!
I was exploring coreless core spinning: I carded some batts and spun them up at a spinning meeting.  I'd dyed some tops and thought they would be a good sunset, but they were the perfect colour to use for thread plying (I shall have to dye some more!)  I aimed to spin about 150m on the lace flyer of my Ashford wheel.  Judging by how much is still on the bobbin I overshot this by quite a way (I have yet to learn a method for estimating the amount of yarn spun on a bobbin).
I currently only have one bobbin for the Pipy Poly wheel, so the single of coreless core-spun was wound into a skein and transferred to my swift.
I then spiral-plied with most of the tension on the thin single and barley any tension on the thick single (I found it tricky to adjust the tension much, this was very much what these two singles wanted to do).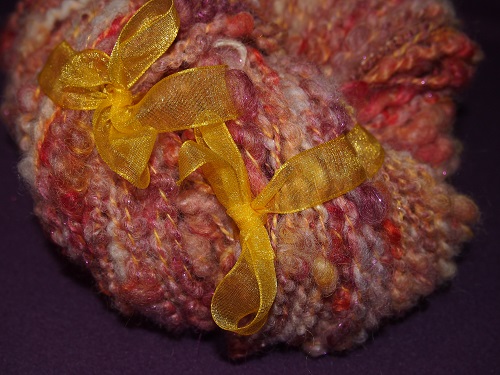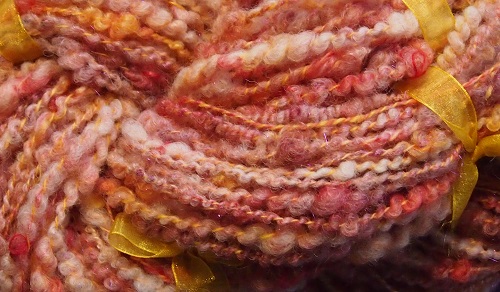 I'm curious to see how this looks when made into a fabric. I shall probably knit with it, but I think it would also make a very nice woven fabric. I've already carded some more batts for another coreless core spinning project, so I can see I'll be exploring this technique for some time to come!