Today I realised that I need to get control of both my fibre stash and my works in progress.  I wanted to see what soybean fibre would look like blended with some dyed BFL.  It took me half an hour to find the soybean fibre – tucked away in a suitcase that I thought was empty!  I try and avoid storing things in my suitcases because it makes packing, which I don't enjoy doing, an even bigger chore.
On Sunday and last night I spun up the seven batts of Shetland and mohair into a coreless core-spun single.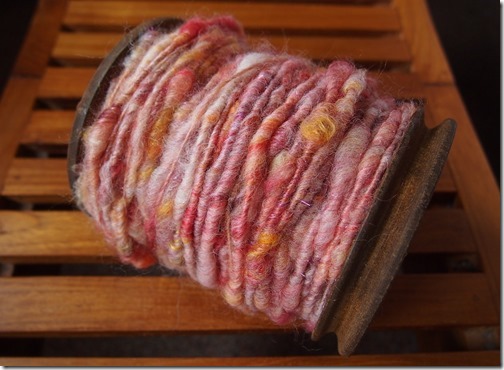 I would like to see what this looks like plied with a thread and I want to spin a fine single for this.  I have a number of wheels I could use, but one of the best for the job is the Traditional with the lace flyer.  Sadly all three of its bobbins are currently full of Shetland and soybean fibre, of which I only plied a little during the TdF.
So, tonight, I'm going to do some long overdue plying and try and finish some yarn I've been making for well over 2 years…