Today's lesson – when grabbing my camera from the desk in my study, make sure it's got the memory card in it and I've not left it in the card reader slot in my computer. So some of the photos on here are from the camera on my phone (which fortunately goes everywhere with me).  But before I talk about today I need to catch up on the TdF.
On Thursday (day 13) I continued with plying the Shetland/Soybean blend. It's not finished yet but I did make some progress. Yesterday (day 14) I managed to get to 11pm without doing any spinning. In the end I fancied something calming and soothing so sat at my Dryad and continued spinning the Falkland tops.
Today is day 15 and was Creating Space.  I took spinning, drum-carding and felting to do. I'm not sure why I thought I would manage to do all of these things in about 6 hours (with time for lunch) but I've always been an optimist.
I wanted to make a start on the "Bowties are cool" yarn. My plan is to have felted bowties and the yarn itself to be core-spun. I started work on making some batts. Initially I fished out the colours and fibres I wanted to use and put them together and looked for some pictures of the Time Vortex from the new Doctor Who series (I personally like the vortex for the 10th Doctor, so this is where I concentrated my efforts). Then, uncertain of what I was going to do. I drank some tea and did some spinning:
I then had another look at the pictures and my fibre and made some decisions, which resulted in four piles of fibre:
I drum carded each of these.  I didn't manage to cram all the fibre onto the carder, so I now have a pile of left-overs.  After a single pass I was starting to doubt my plan: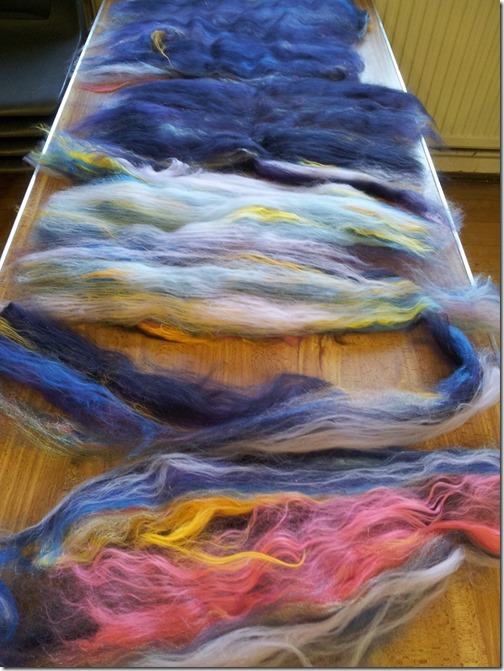 So I split each of the batts into four and recarded into four new batts (thus combining the first batts).  The result is four Time-Vortex batts:
Next step – felted bowties.