Days three and four of the tour have gone well.  Monday was a busy day with all the usual grocery shopping and other general Monday shenanigans.  When time allowed I continued with the spindling and in the evening I made a little more progress on the lovely Juno fibre.
Yesterday (day four) turned into a bit of a bumper spinning day.  In the morning was my son's sports day.  I took the "fruit salad" spindle spinning and between cheering him on and taking photos I was able to do quite a bit of spindling.  My spinning did get a few enquiring looks from other mums and some questions from one of the older children who was helping with the sports day organisation.  I think I may need to put together a short one page introduction that can be given out at similar events if people are interested.
Also in the morning a new spinning book arrived.  I spent the day flicking through it and in the evening I had to have a go at core spinning.  I carded up a batt with natural white Shetland, a little commercially dyed Shetland, some food-colour dyed Jacob and some sparkly trilobal.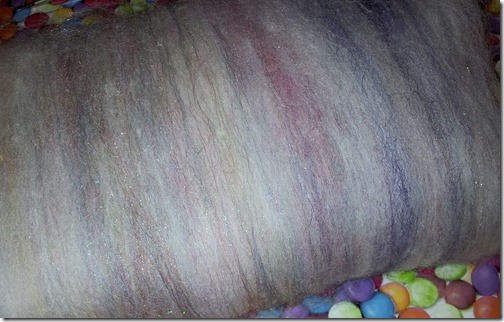 I enjoyed the spinning and ended up with a very light and airy yarn.  In fact I found the lightness compared to the bulk of the yarn really surprising.  I'll be interested to see how it wears.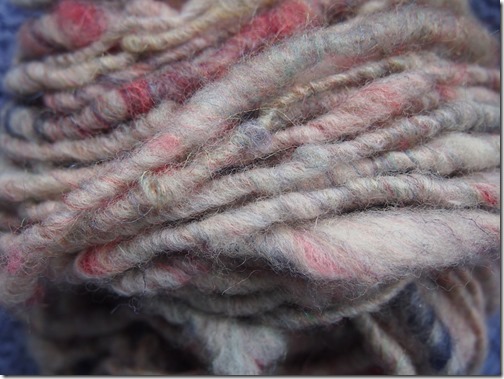 This morning I wound it into a ball.  Normally I use a ball-winder – but large yarns don't work on a standard sized ball-winder, so I had to use a makeshift nostepinne.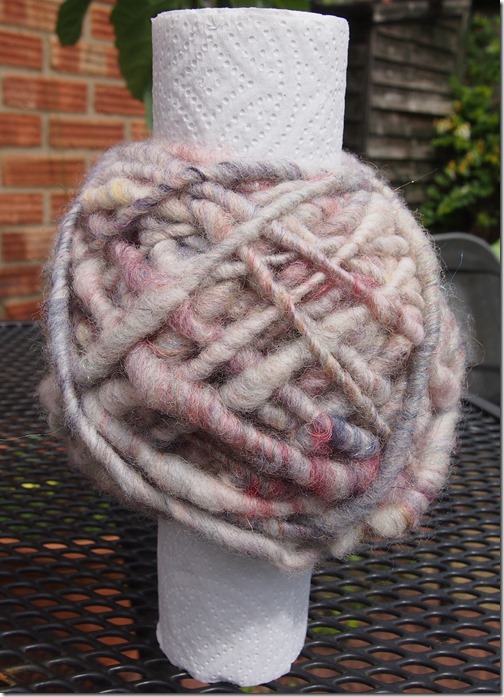 Yes, it's an almost empty kitchen roll.  I'm going to Fibre-East in a few weeks.  I must remember to look out for a proper nostepinne while I'm there.
I've knitted all 31 yards up into a small Mobius cowl using 20mm needles.  I just need to graft it and it'll be complete.  As yet though, I haven't managed any actual spinning today. So please excuse me stopping here as I must now go and do at least a few minutes!