The sun is currently setting on day two, and an absolutely stunning sunset it is too (sadly my photography skills have never been up to capturing the beauty of a sunset, though if I keep trying maybe one day I'll succeed)!
Today has been filled with the palaver of installing an integrated dishwasher into the kitchen.  It entailed three trips to local hardware stores before the right bits of waste pipe were sourced and there was further bodging (technical plumbing term) to fix a leak right the end of the day.  However, It is now installed and running and appears to be a huge improvement over the old one.
I failed to keep up with the spindle spinning today.  However, at one point I needed to escape and quietly exited the kitchen, found fibre, went upstairs and dusted and oiled the Dryad wheel.  I then managed a few minutes peaceful spinning.
I'm spinning some Falkland dyed by Juno Fibre Arts.  It's a real treat to spin something dyed by someone else.  The colours are different from the ones I would have chosen and the distribution and proportions of colours are also different.  I'm looking forward to seeing how this will come out.
I think I'll Navaho ply it to maintain the changing colours.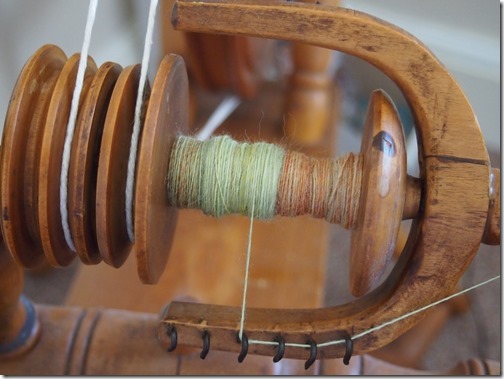 Right, the sun is almost gone, so I think it's time I grabbed another cup of tea and did some more spinning!