Today saw the start of the Tour de France (apparently – I haven't watched any or even caught up on events via the internet or radio).  It also saw the start of the Tour de Fleece (TdF)!
Yesterday evening I got myself all prepared and set up my "stash" on Ravelry for the yarn I'm planning on spinning during the TdF.  There are projects that are in progress and some are new projects to spin.  Once I had everything listed I was quite shocked to see how much I'm planning on doing!  I also updated my Ravelry profile with my aims for the TdF.
Today has been a busy day with the children, so I haven't had time to do much spinning.  Last night I decided that the best way to tackle spinning today was to concentrate on spindling.  So I made sure that the two active spindle projects were easy to grab in quiet moments (there were a few – not many – but some) and I was able to make noticeable progress!
Both spindles already had some singles on, but here was progress by the end of the day: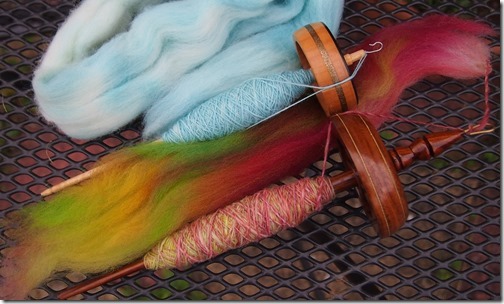 This evening I've sat down at my Ashford Traditional with the lace flyer and made some progress on the Shetland/Soybean blend that I started nearly two years ago!
I'm looking forward to getting lots more spinning done over the next few weeks and seeing just how much I can do when I prioritise spinning over other non-essential activities.