I've crammed lots of spinning and knitting into the last few weeks.  But first a mystery!
I was away for a few days and took my portable wheel and a small selection of tops to spin.  I eventually decided on an pink/orange top that I'd dyed.  After dyeing it I remember thinking that I would know what it was when I used it and so didn't add a label.  However, for the entire time I was spinning I wasn't sure of the fibre.  It was humbug tops but that's all I knew.  Was it Shetland or BFL?  I didn't have a clue!  When I got back from my trip I checked my blog and thought that maybe it was some BFL humbug tops that I'd dyed.  But apparently I've already started spinning that into a crepe yarn!
I'm going to have to start making notes on the dyeing that I do and also adding labels to both my dyed tops and to the finished yarns.  However, I Navaho plied this mystery into a lovely yarn of about 190 yards.
I've also continued with the Wild and Independent yarn that started as a response to the suggestion I should downsize my spinning wheel collection.  I had enormous fun spinning this big yarn and plying in the locks.  I also really enjoyed knitting it up into a crazy scarf.
I took advice from my friends at Creating Space and settled on making a two-ply yarn with the locks trapped between the plies.  I did try tail-spinning the locks during the plying but I couldn't quite get that to work.  In the end the locks are partially tail-spun and partially encapsulated by the plies.
I then proceeded to knit a huge scarf in just a few evenings.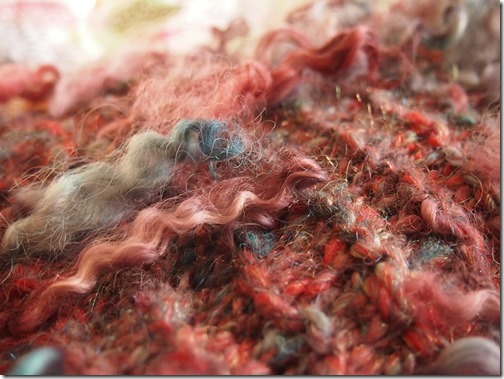 I plan to wear my wild and independent scarf at every opportunity.  During the summer I'll wear it when spinning in public (I've never got enough layers on when spinning in a field) and during the winter I'll wear it with my military style wool coat (military and wild – a great combination).
I have plans to make more wild yarn – for my next one I have some locks in pink, yellow and orange ready to use!