Today has been a lovely day. The rain has stopped and the sun has appeared. The apple and lilac trees are still in blossom and the Horse Chestnuts are decked with their candles of white and dark-pink flowers.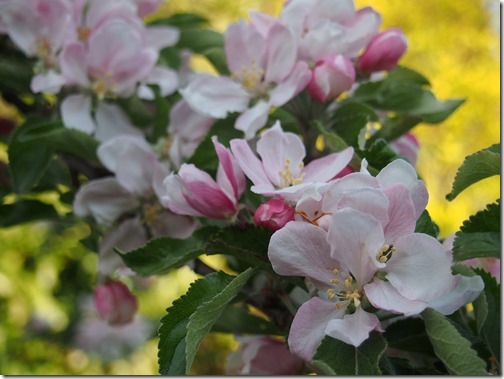 The best part of today though, was getting some carding and spinning done in the company of other very creative people. A day filled with spinning, weaving, sewing, quilting, carding, painting and knitting. It was a positive delight of colour, shape and texture. I went along with my car filled with tools, equipment and fibre, but no real idea of what I was going to do. After getting myself settled (which always means getting a cup of tea) and sorting through my boxes I was starting to see the beginnings of some inspiration.
I wanted to spin something "wild and independent", as was suggested by Lyn following my last blog post. After discussing this on Ravelry I'd decided that locks and glitter wasn't too over the top – but I still wasn't sure what I was going to spin.
In the end I decided on some Shetland humbug tops I'd dyed, but the original tops had been a disorganised mess and really needed carding to make them usable. To this I added some commercially dyed "poppy" Shetland and some rainbow trilobal nylon. I tried out the combination on a hand-carder then decided to drum card some batts. I made four equal piles of fibre, or at least I tried to – I didn't have scales and no-one else had brought any either, so I did it by eye.
When drum-carding I didn't use the licker-in at all, I simply turned the drum while applying the tops directly to it. This is the first time I've tried this approach.  Sometimes the drum would grab a larger lump of fibre than I desired, but otherwise I was able to fill the drum fairly consistently. A couple of times I did get into a tangle where the licker-in grabbed the tail-end of the tops and started feeding that in as well as the tops I was applying directly to the main drum. (I do hope you're a spinner and following this. I've just realised that I'm talking a special spinner's language here and perhaps I need to think about a glossary on this blog?)
I made four reasonably consistent batts. I didn't do any blending beyond putting the fibre on in layers (a little like a lasagne: dyed tops, nylon, poppy, dyed, nylon, poppy,…)
I then split the tops lengthways and pre-drafted a little before spinning in a worsted style. There a quite a few lumps and bumps, mostly deliberate (after all this is a wild yarn).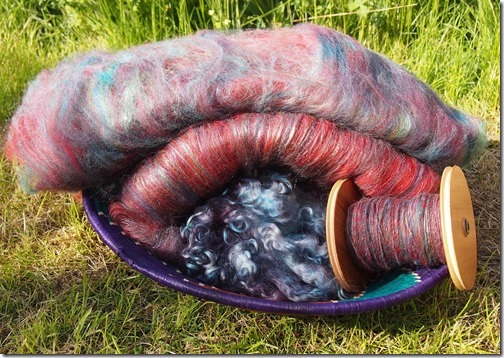 The results of a day's work. I'm planning on Navaho plying and adding the locks of Leicester Longwool at that stage.