Winter is, I think, getting to me.  Earlier this week there were signs of spring, and I managed a walk with my daughter, taking some pictures of lovely spring flowers.
Since then the weather has been cold and grey, and then the snow arrived. 
I've been feeling the need to counteract the colourlessness of the continued winter.  At this point if someone handed me a pot of multi-coloured paint and a brush I'd go round the house frantically painting blocks of colour onto plain walls.  Instead I've been grabbing lengths of tops from my supply, pots of food colour and large bottles of vinegar and been combining them with abandon.
A couple of weeks ago a friend suggested dyeing in the oven as a way to prevent the tops felting/compacting too much.  So these were dyed in my largest Pyrex dishes with foil on the top.  I found 150 degrees centigrade to be a good temperature, putting the prepared tops in to the cold oven, turning it on (it's a fan oven), then turning off after an hour and leaving the wool in the oven for about an hour – or overnight in one instance – while it cooled a bit.  The first batch was very successful, the second I didn't manage to work the colour into the wool enough.
The first batch is on natural white Shetland: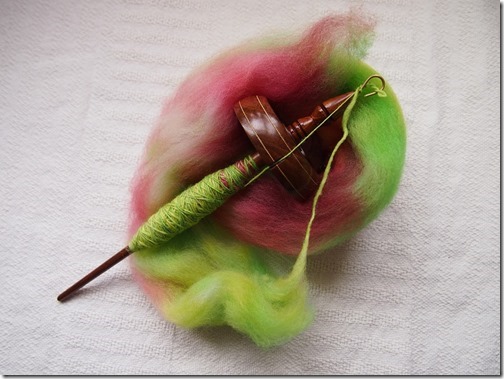 Overdyed fawn Shetland:
Overdyed humbug blended Shetland (the humbug blended tops are looser than the single colour tops, which I find makes them harder to dye):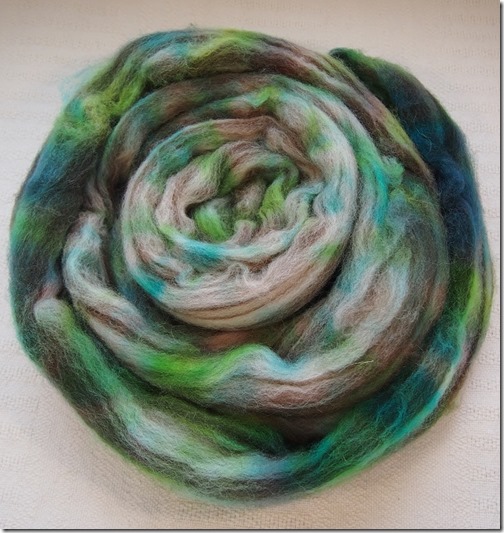 Leicester Longwool rainbow dyed in two batches on a stove-top:
I have plans for the longwool.  I need a new handbag and think a woven bag with a mass of locks near the top would be totally impractical and completely mad (and a good test of light-fastness of food-colour dyed wool).  I need to finish a few more projects off though before I start on that one!