Having started January with completed projects, I thought it was time to share things that are on the wheel, spindle, needles or loom.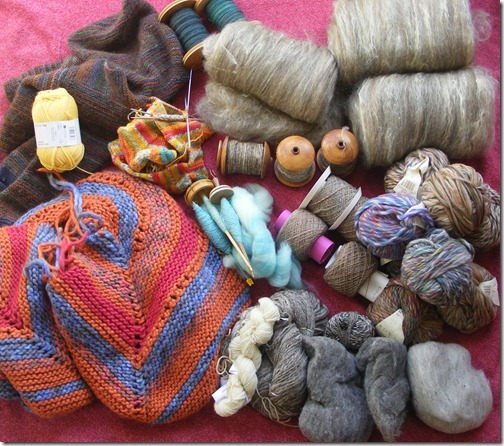 Clockwise from top left (more or less) are:
An alteration to a jumper to make it more suitable for my daughter.  So far I've taken most of the blue bands off and repaired the moth holes.
Blue BFL singles on the bobbins.  The singles are completed but it's not yet plied.
Shetland and soya fibre drum carded batts and three bobbins of singles.
A project to convert some soft-spun chunky singles into three-ply yarn.  I've lightly unspun the commercial chunky yarn and turned it into pencil roving that can be drafted and spun finely.  In hind-sight I should possibly have given the chunky yarn to a knitter who would have enjoyed it and bought myself some more top.
Soay-cross fibre.  Processed from the raw fleece by me.  I've got about 10 oz drum carded.  It needs carding into rolags and can then be spun.  The final destination of this may be a shawl.
Jacob yarn.  This is an early yarn of mine – it's currently being knitted into a shawl (not shown).
Chunky orange, blue and red Pie-R-Square shawl.  I seem to have endless balls of this yarn.
Pair of socks.  All I need to do is finish off the toes.
Spindle spun blue Shetland.
(Not shown) Cambridge Beauty overshot weaving that's currently on my 4-shaft loom.
I think that's everything.  But there may be another project or two lurking in the bottom of a box.
I've got lots to finish off then!