If you look at the categories for this blog and find "Projects – Completed" there are, at the time of writing this, exactly 7 (and one of those is an Almost Finished Object, and some others are skeins of yarn).  So an actual finished garment or accessory is a rare thing.
Even more rare is that this took me only 10 days to make!  Most projects take me years.
And the firsts?  It's something for me to wear (I'm wearing it now in my study while I type this)!  I have made things for me to wear in the past – but they predate this blog by years and are also very rare.  The other first is that I'm modelling it: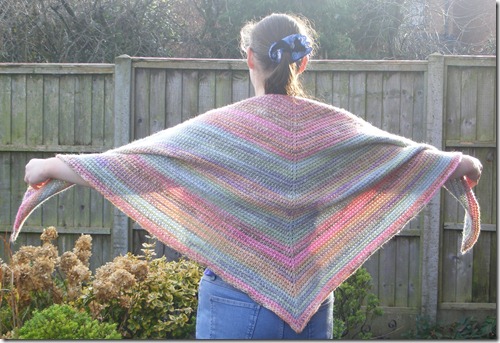 Now you're recovered from the shock, here's a close up of the Tunisian crochet:
I really love the way the basic Tunisian stitch makes the colours of the variegated yarn work.  It allows the colours to mesh together in the same way that weaving does, and therefore makes them more complex.
The stitch itself is quite strange.  If you look closely at the fabric you'll find that it's a knitted fabric with a chain stitch wrapped around each knit stitch.  The bars you can see in the picture above are one leg of the knit stitch, the other leg is wrapped within the chain stitch. (So the chain goes both through and round the knit stitch).
On the back of the fabric (not shown here) you'll see the classic bumps of reverse stocking stitch, but between each pair of rows there bumps from the back of the chain.
Working Tunisian crochet requires a hook that is much larger than you would normally use for knitting or crochet.  To work this chunky yarn I used a 10mm hook – even though the ball band recommended a 6mm needle.
I enjoyed working on this.  I enjoyed the speed and simplicity of the project.  I also love the feel of the finished fabric.  I think there will be more Tunisian crochet projects in the future.