I started tricoting (I may have just made that word up) a scarf last night, and really liked it.  This morning I wasn't so sure.  It lacked something, but I liked the way the stitch and yarn worked together.  I was also concerned about the number of balls of yarn I have (8) and the likely length of the scarf (very long).
I tried a wider scarf, but still wasn't struck.  However, I liked the look of a shawl in the book I'm using (though there isn't a pattern for that shawl), so thought I'd try that instead.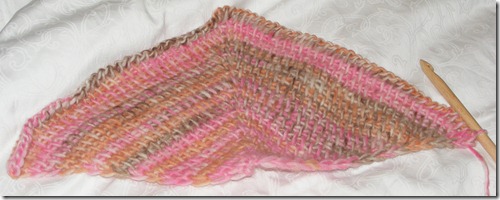 I started with five stitches (see notes on casting-on below) and I'm increasing in the same places I would if I was knitting this shawl – increase at each edge and two increases round a centre stitch.  The increases are worked on every forward (pick-up) row (including the first one).
Now then.  I do have an impending problem:
I don't know how big I can make this shawl before trying to cram all the stitches onto the needle becomes too difficult.  Now I'm a huge fan of circular needles and interchangeable circulars and own a few tricot hooks to which a cord can be added.  So I didn't think I had a problem… but the maximum size of hook that knit-pro do is 8mm.  Or at least that's what I thought – but I've just found a supplier who does 10mm and 12mm in the acrylic… so I now have those on order (I wonder when they'll be shipped).
Hazel's Tunisian cast-on
To cast on Tunisian crochet the books all say work a chain, and then pick-up stitches along the chain.  Not having done much crochet I find I sometimes twist the chain when picking up stitches from it (which I find results in a messy cast-on).  However, there is a knitting cast-on that uses just one needle (and it's a cast-on I use regularly).
Here's the 10mm tricot hook with a 5.5mm knitting needle held next to it.  I found this gave a good size for the initial stitches.  The cast-on I've used is long-tail cast-on.  Once the first row is completed (the reverse or cast-off row completed) the tricot can be pulled to open up the cast-on stitches:
Work can then proceed as normal!