Today some new reeds arrived for my new 24" rigid heddle loom.  Have I mentioned my new loom? Here it is, being put together a few weeks ago: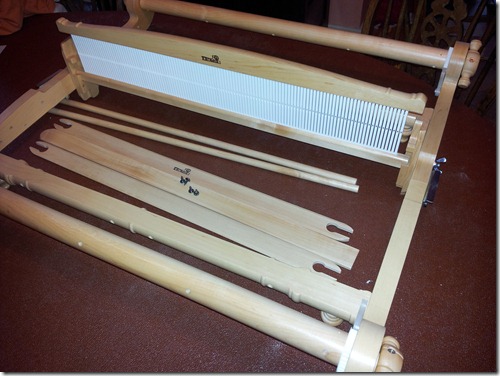 An additional reed for my 16" loom also arrived.  With two looms empty my mind turned to getting the next projects on them, so I fished out my boxes with my "weaving" yarn in (I don't think I've got a good criteria for it being weaving yarn – just that I think it's more likely I'll weave with it than anything else).
I played around with some colours together (I'm thinking cushions for the lounge) but wasn't feeling inspired.  Then I spotted some "knitting" yarn in another box and my tricot hooks/needles (are they needles or hooks? nooks?  heedles?), and before I knew what was happening I was running up a quick sample (and liking it).
So, that's one scarf in tricot from chunky eco wool in various subtle colours in the queue.  The weaving's still on the starting blocks.
I'm also liking this Sherlock Hat in the latest edition of Knitty.